There are so many Old Testament Laws in the first two-thirds of the Bible that it's often hard to keep them straight. Not to mention the lost time spent finding a specific topic or law that you want to study.
Take Food Prohibitions for example—will you start by combing through Exodus or do you find a Bible dictionary to make your search a little easier? I can tell you from experience that either way you'll spend plenty of time flipping pages and dead-end searching.
With the new Commandments of the Law interactive in Logos Cloud, you can track down specific Laws that address certain people, topics, or things.
Watch this video to see exactly how to search and study Old Testament law in seconds: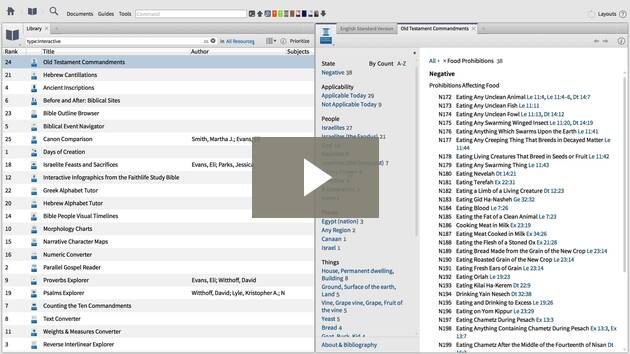 Imagine that you're reading the account of Peter's vision in Acts chapter 10 and you want to study the idea of food prohibitions in the Old Testament. With Logos Cloud, you can track down Old Testament laws of this type using the Commandments of the Law interactive.
To access this feature, open the tools menu and choose to view all of your interactives.
Then, in the Library panel, click to open the Commandments of the Law.
When the tool appears you'll notice that the majority of the screen is displaying the 613 mitzvot commandments. Each commandment is numbered and accompanied by a "P" or an "N" representing laws that are positive or negative in nature.
To the left, we have helpful filter options that will take us to the type of commandment.
Under the filter options, you'll find a section called "category," which groups the commandments by the topics they address. About halfway down the list, Logos Cloud tells you that there are 38 laws regarding food prohibitions. When I click this option, the list of commandments refreshes and now only shows laws that fit this category.
In the list to the right you'll find laws regarding everyday dietary restrictions, and food laws that only apply to certain occasions and certain people. Select Israelites and notice how certain laws apply to all Israelites. Then, select Nazarite and notice that there are other laws that apply only to individuals who have taken a special vow. To erase these filters entirely, click the "All" link near the resource toolbar or to go back in your search and see food prohibitions, click the blue "x."
Looking at the entire list of food prohibitions, notice that under the heading, Logos Cloud tells what things are associated with these laws plus you can select a particular thing and see which of these commandments mentions that thing. See all of the food prohibitions that involve a particular animal, like goats or commandments that mention a particular thing like yeast.
What's even better is that you can select the individual commandments and discover some important details, like whether the law is applicable today as well as the people, places, and things involved. Logos Cloud even tells you the literary type where this commandment is found.
Get started with a free month
To get started using the Commandments of the Law interactive, start your free month of Logos Cloud today.
Like Logos 6, Logos Cloud includes advanced search features, original-language study tools, interlinears, reverse interlinears, sermon prep tools, reading plans, and more. These powerful tools work seamlessly with Logos' unparalleled library of interconnected theological resources. Your first month of Logos Cloud is free, and you can cancel at any time.